Yamaha YTS-280 Student B♭ Tenor Saxophone - Gold Lacquer
Original price
£1,924.00
-
Original price
£1,924.00
The YTS-280 saxophone is designed with the young beginner in mind. Relatively light-weight and ergonomically shaped with an adjustable thumb rest, it is easy to hold and to play. The intonation is perfect, as you would expect from Yamaha, and it is easy to get a great sound.
The Yamaha design offers beginners optimum support, thus greatly assisting both learning progress and creativity. The YTS-280 features a new, more stable neck receiver and a new low B-C# connection for better adjustment. It also comes with an TS-4C mouthpiece, recommended by teachers as a suitable upgrade for avid players. As well as this, the saxophone comes with a plastic mouthpiece cap and a rucksack-style case to protect the instrument during travel.
Body Material: Yellow Brass
Body Finish: Gold Lacquer
Auxiliary Keys: High F# , Front F
Key buttons material: Polyester
Thumb Hook: Adjustable
Key: Bb
Case: Lightweight Hard Case
Mouthpiece: Yamaha TS-4C
NEW NECK RECEIVER WITH A DURABLE SCREW

A redesigned neck receiver promotes a quick response and ease of play while also increasing the durability of the mechanism.
IMPROVED LOW B-C# CONNECTION
An improved mechanism from low B-C# ensures the consistent closing of the low C# key and promotes a clear response from notes in the low range of the instrument.
ADJUSTABLE THUMB-REST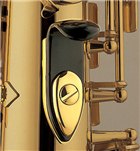 All Yamaha saxophones feature an adjustable thumb-rest to allow for precise and comfortable hand and fingering position.